Providing a comprehensive and integrated wellness approach to multiple sclerosis and related diseases, life-changing support services, critical education programs, and cutting-edge research.
How can we help you today?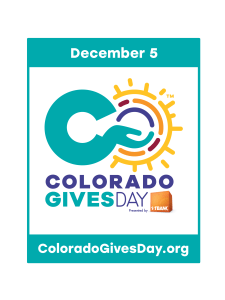 Please consider a donation to the Rocky Mountain MS Center today. To donate, join our Colorado Gives Day campaign on December 5 by visiting coloradogives.org/mscenter. You can visit the site to give on Tuesday, December 5, or schedule your donation ahead of time and it will be added to our total on Colorado Gives Day. Thank you!
Latest Issue and Complete Archives
InforMS: Fall 2023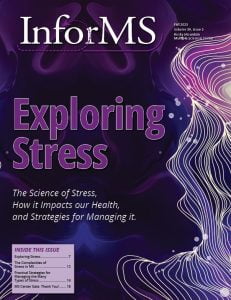 InforMS: Fall 2023
Stress is an ever-present force in our lives and deeply ingrained in the human experience. In this issue of InforMS, we explore the science of stress, untangle its many facets,...
Our MS-specialized Neurology Clinic
Rocky Mountain MS Center at University of Colorado
The Rocky Mountain MS Center at University of Colorado is recognized as a Center of Excellence in MS care, and houses a team of MS-specialty neurologists, advanced practitioners and support staff providing state-of-the-art patient care. Our comprehensive approach maximizes the brain's ability to protect and repair itself, and promotes quality of life for patients and their families.
RMMSC at CU Stats:
4,500+ patients from across the Rocky Mountain region
10,000+ clinical visits each year at University of Colorado Anschutz Medical Campus, via Telemedicine, and at partner facilities
With more than 30 research projects underway at any given time, MS represents the largest single area of research in the CU Neurology department
Daily Care for Younger Adults
King Adult Day Enrichment Program (KADEP)
KADEP is an innovative, community-based and cost-effective day program alternative to nursing home placement for younger adults with MS, brain injury, stroke and other neurological conditions. KADEP provides a dynamic array of classes and activities, nursing care and other services designed to enhance the physical, emotional, cognitive and social wellbeing of each participant.
KADEP Stats:
175+ clients from around the Denver area
More than 70 people join us each weekday, from 7:30 a.m. to 4 p.m.
Staffed by Certified Therapeutic Recreation Specialists, Exercise Specialists, Registered Nurses, CNAs and other support staff
The only program of its kind in Colorado, and a model for similar programs across the country
Resources on the Web
MS Education Resources
The MS Center's Educational resources help you and your loved ones better understand all facets of living with MS, from care and treatment options to managing MS in your daily life. The resources compiled here are regularly updated and curated by our staff to bring you the best information available.
Live Events & Archives
Education Events
The MS Center's Educational events bring our experts directly to you, in settings that offer more in-depth learning than can usually be done during an office visit. Take a look at some of our upcoming live educations events, as well as archives of previously recorded events.
MS 101 An indispensable overview of MS topics for newly-diagnosed patients, or anyone wanting to learn more about MS.
Conversations on MS Our touring sessions featuring audience-led discussions with MS Center Neurologists.
MS Education Summit Twice-yearly seminars featuring a morning of presentations from leading MS experts.
MS Center Webinars Regular presentations from our MS Team and colleagues on important topics in MS.
Explore our Educational Resources
Support for Patients, Families and Caregivers
Rocky Mountain MS Center
Support Programs
We understand that every person experiences MS differently, and that one person's MS can have a profound impact on their loved ones as well. Our support programs — along with our entire MS care philosophy — are grounded in meeting patients and families wherever they are on their MS journey.
MS Center Support Programs:
Changing the Way the World Treats MS
MS Center Research
The Rocky Mountain MS Center at University of Colorado is the home of one of the largest MS research programs in the world. At any moment, we have dozens of clinical trials underway with patient participants from around the region. The results from this work are driving our medical care approach to maximize lifelong brain health through comprehensive care, which supports the brain's ability to protect and repair itself and promotes quality of life for patients and their families.
Your Support is Critical to Our Work
Together
We Are Stronger!
We're proud to be an independent, Colorado-based organization. When you get involved with the Rocky Mountain MS Center, you're making a difference right here in your own community. Please join us in making a difference in the lives of those living with MS every day!
We welcome your direct financial support, and we pledge to be responsible stewards of your gifts.
We also invite you to participate in our work, whether as an attendee to one of our educational programs, a guest at one of our events, or as a volunteer in any capacity that's right for you.
We are proud to be both a Charity Navigator Four Star Charity and the recipient of Guidestar's Gold Seal of Transparency.