The Rocky Mountain MS Center's King Adult Day Enrichment Program (KADEP) continues to offer a diverse variety of outings and adventure recreation opportunities for clients. These trips and outings provide many different benefits to the participants, their families, and the community.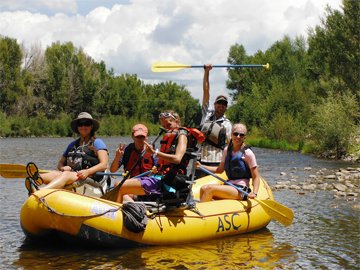 For most Coloradans, a mountain getaway is one of the best aspects about living here. Living with a disability can make experiencing the mountains exponentially more difficult due to transportation barriers, decreased mobility, lack of accessibility, financial difficulties, and medical issues. Adventure Recreation and day trips allow KADEP participants the chance to overcome challenges they previously thought impossible, build comradery in a new way, and adapt to the disabling conditions they are living with by recognizing resources and opportunities.
Throughout the past year, KADEP provided 90 different clients with dozens of opportunities to participate in community outings and adventure recreation. Adventures included an amazing experience at Griffiths Lodge with the Breckenridge Outdoor Education Center where clients participated in an adapted high ropes course, kayaking, yoga, fishing, and a sunset in the aspen trees on Boreas Pass. And there were not one, but two, moose sightings! When the snow started to fly later in the year, clients went back to BOEC for two amazing days of adaptive skiing and snowboarding.
Clients also participated in two day trips to stand ski, sit ski, snowboard, and ski bike at Eldora with the fantastic volunteer instructors with Ignite. KADEP also took a spring trip to the YMCA of The Rockies for a two-night retreat including swimming, touring Rocky Mountain National Park. And KADEP partnered with the National Sports Center for the Disabled (NSCD) to hold a camping and rafting trip in Winter Park – sleeping in tents, cooking over a camp stove, roasting marshmallows over the fire.
KADEP took part in many cultural community events as well. Clients enjoyed a dinner out and productions of Beauty and the Beast and Disenchanted at the Boulder Dinner Theater. And we partnered with the MSU Denver Athletic Department to attend a National Championship game at the NCAA DII Softball World Series – cheering on some of the best teams in the nation. Clients also enjoyed the Hazel Miller Band at an outdoor concert in Northglenn, and a trip to the Boulder Farmers Market to shop and enjoy dinner from a selection of food trucks.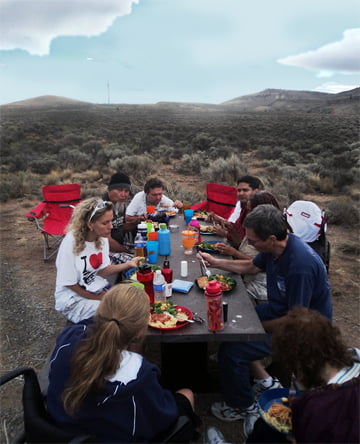 KADEP also worked with the Old Spaghetti Factory and the Murder Mystery Dinner Company for "A Night at the Masquerade" where clients dressed up, enjoyed a dinner out and solved a theatrical murder mystery.
For the sports fans in the group, there were many fun options, including attending the Roller Derby World Championships and a day trip to tour a professional boxing gym. Football fans stayed the night at KADEP in the fall for a Thursday Night Football Night including grilled burgers and Super Bowl-worthy snacks while watching the Chargers and Raiders go head to head.
Family members share that their loved ones come back re-motivated and excited about what they've accomplished. These are feelings that some people may take for granted in day to day life. Other benefits include respite for caregivers; a chance for staff members to help clients transfer what they've learned and experienced to everyday life; and spreading awareness to the community about our program and encourage clients to be self-advocates.