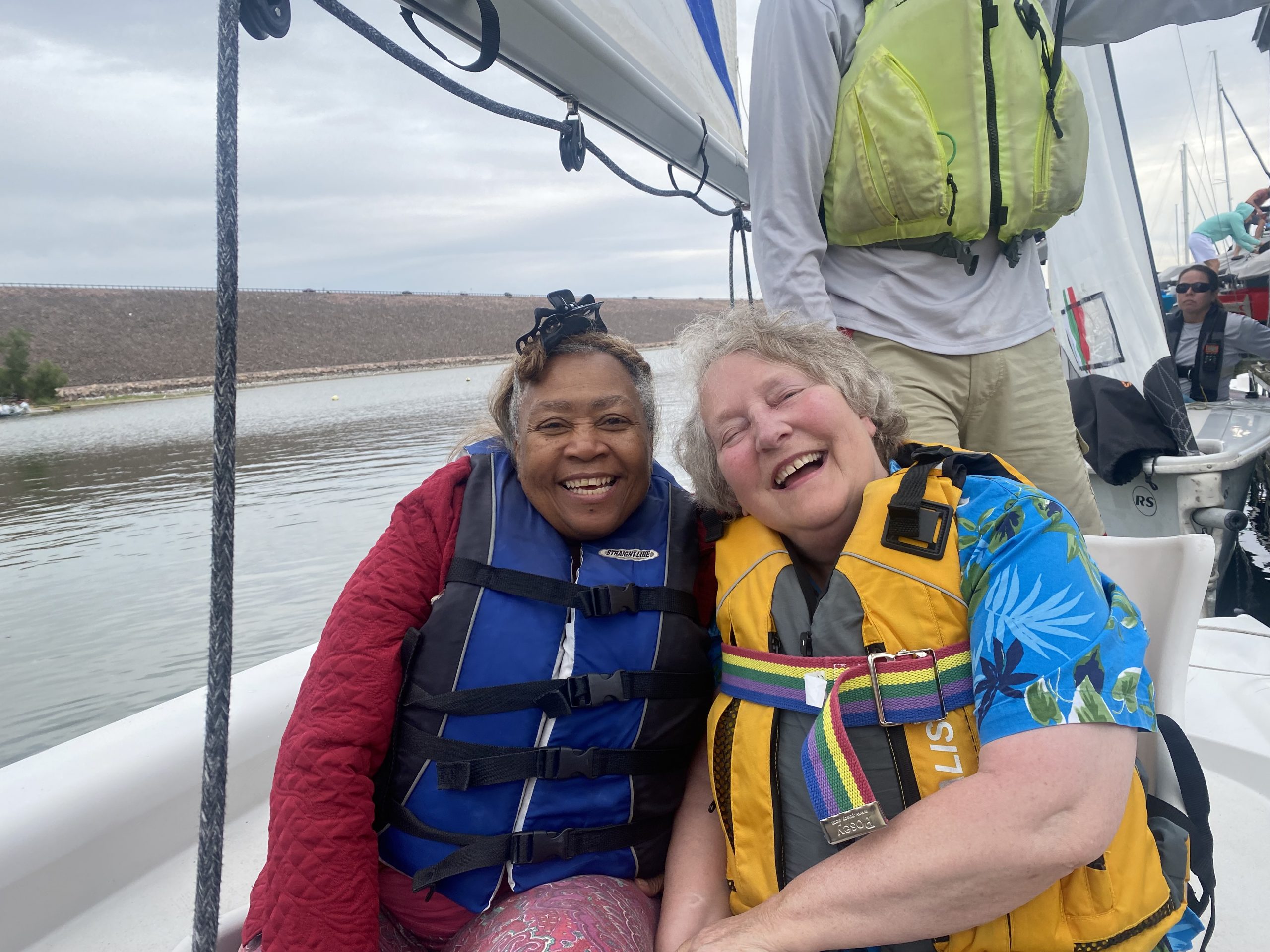 The Rocky Mountain MS Center's King Adult Day Enrichment Program (KADEP) continues to offer a diverse variety of outings and opportunities through our Adventure Recreation program for KADEP clients. Trips and outings provide many different benefits to the participants, their families, and the community.
"Adventure Recreation at KADEP means the clients at KADEP get to experience things that they've never experienced or thought they would never experience again," says Rhiana Pochman, a Certified Therapeutic Recreation Specialist at KADEP. "It brings new adventure to their lives that they think about for weeks before and talk about for weeks after."
Above: Recent Adventure Recreation trips with our friends from Wilderness on Wheels and Community Sailing of Colorado.
After COVID-related interruptions, KADEP is happy to be back on track with regular Adventure Recreation outings and programs! For most Coloradans, a mountain getaway is one of the best aspects about living here. Living with a disability can make experiencing the mountains exponentially more difficult due to transportation barriers, decreased mobility, lack of accessibility, financial difficulties, and medical issues.
Adventure Recreation and day trips allow KADEP participants the chance to overcome challenges they previously thought impossible, build comradery in a new way, and adapt to the disabling conditions they are living with by recognizing resources and opportunities.
"We're taking a Ropes Course outing with the Breckenridge Outdoor Education Center (BOEC) in September, and we'll be doing another skiing and snowboarding program with them in the winter," says Pochman. "Around Halloween time, we'll be heading out to the mountains to see the aspens turn golden and do some fun Halloween things."
"We typically take about ten clients on each trip," says Pochman. "As of August, this year we've gotten about 80 clients out into the community in some capacity."
You can support KADEP's Adventure Recreation activities! Please consider a donation to Team KADEP's MS4MS campaign, or even joining MS4MS yourself as a member of Team KADEP!
Support Team KADEP's MS4MS Campaign!