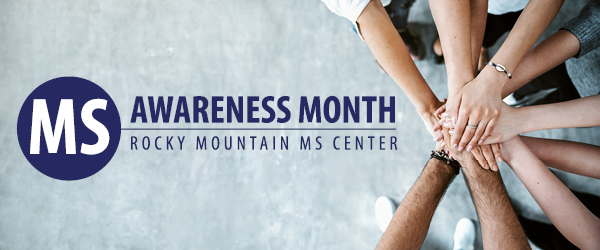 Every March, MS Awareness Month gives us a chance to bring multiple sclerosis to the forefront, to help advocate for people and families living with MS every day, and to educate the public. We hope you'll help us make a difference in 2023, as we dedicate the month to educating our friends, helping foster greater connections, and giving back to our MS Community.
MS is often an "invisible" disease. So many common symptoms can be truly life-altering to those living with them, but not always apparent to the outside world. We've created "Answering MS Questions" — a collection of basic MS information — to help patients and families living with MS share the facts with loved ones, friends, co-workers, neighbors, and anyone else who may not have a great understanding of what it means to live with MS.
We've also created two easy ways for you to get directly involved in supporting the MS Center and our many programs and services, most of which are offered free of charge to anyone who needs them. Visit us at MSCenter.org/awareness  or follow the links below to create your own fundraiser on Facebook, or start a personal fundraising campaign on JustGiving. Both are simple, quick, and easy ways to invite your friends, family and social media contacts to support the MS Center.
Engage Your Network!
Spreading awareness is an important part of helping people understand what it's like to live every day with MS. Your friends, family and acquaintances can get more deeply involved by helping support the many programs and services offered by the Rocky Mountain MS Center."
Facebook — Click here to start your own fundraiser.  Some mobile users have had trouble with the fundraising link. If that's the case for you, you can simply begin a post on Facebook as normal, choose the "Raise Money" option, and search for "Rocky Mountain MS Center." You're just a few clicks away from your very own fundraiser in support of the MS Center.
JustGiving — visit JustGiving.com/campaign/msawareness23 and follow the instructions under "Start Fundraising" to get started building your campaign.