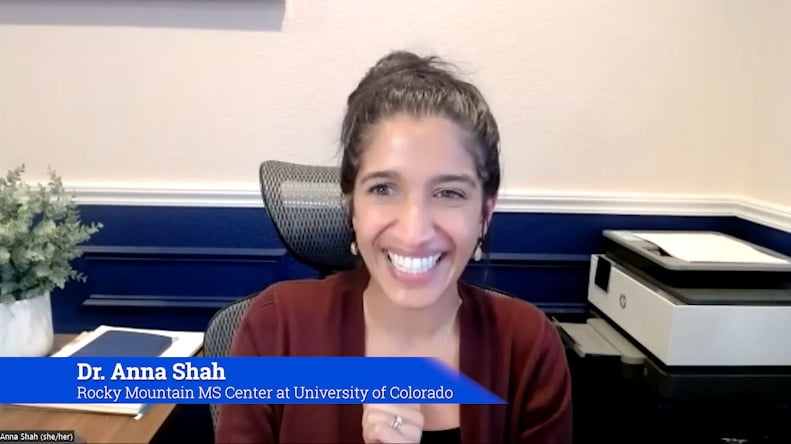 This session of Conversations on MS, featuring  Dr. Anna Shah of the Rocky Mountain MS Center, was recorded on Wednesday, March 29, 2023.
Conversations on MS is an audience-directed discussion covering a wide range of topics. The format is based on user questions submitted before the event, as well as questions asked by the evening's live audience. This is a unique opportunity to ask questions and explore information there usually isn't time for during a clinic visit with your neurologist.
A brief list of links mentioned during this session, and an index of all questions addressed during the talk, are included further down on this page.
Links Discussed in This Session:
MS Center Education Summits (upcoming events and archives): https://mscenter.org/education-summits/
Results of the DISCO-MS Study from InforMS Magazine: https://mscenter.org/article/results-of-the-disco-ms-study/
Information on Hydrotherapy and Online Exercise classes with the MS Center: https://mscenter.org/support/hydrotherapy/
More info on research can be found here: https://mscenter.org/research/
General information on all ongoing clinical trials can be found at https://clinicaltrials.gov/
Please take a moment to fill out our Webinar Evaluation form. Your input helps make sure our Education Programs continue to meet the needs of our community… https://www.surveymonkey.com/r/H55Q9D5
Index of Questions and Discussion Topics in This Session
Note: These links will open YouTube in a new browser window. 
---
About Conversations on MS
Conversations on MS is our touring and livestreaming workshop series led by one of the MS-specialty neurologists from the Rocky Mountain MS Center at University of Colorado. Our doctors travel the region on a regular basis to bring Conversations on MS to you, and provide livestreaming participation from online audience members via Zoom. 
To learn more, including an always-updating schedule of coming events, please visit our Conversations on MS page.
---
Conversations on MS is made possible in part by sponsorships and patient education grants from our supporters, including Biogen, Bristol Myers Squibb, Genentech and Janssen Pharmaceuticals.