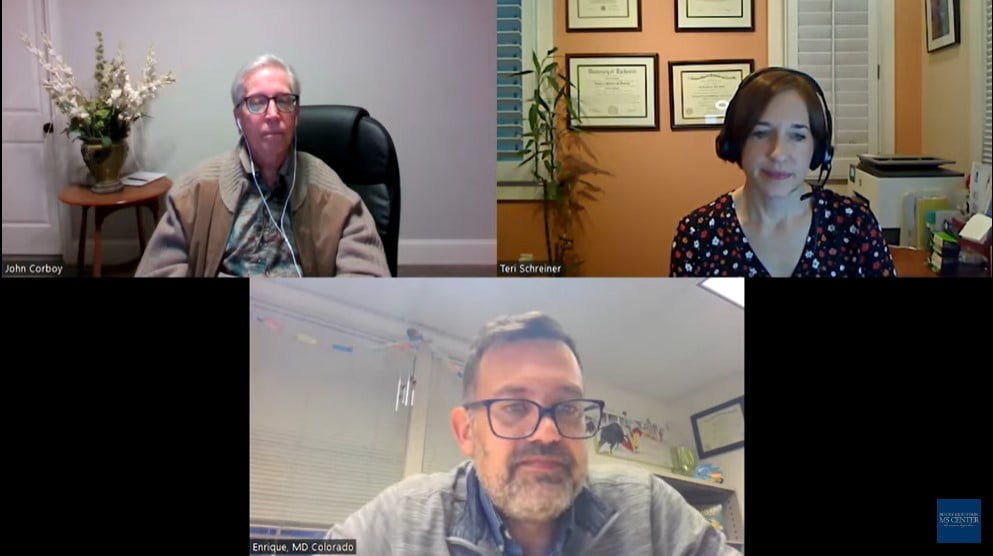 Welcome to a very special edition of Conversations on MS!
This session features three MS-specialist neurologists answering frequently asked questions.
Dr. John Corboy moderates the event. Corboy is the Medical Director of the Rocky Mountain MS Center and Director of the RMMSC at University of Colorado. In 1997, he founded the University of Colorado Multiple Sclerosis Center, now transformed into the Rocky Mountain Multiple Sclerosis Center at University of Colorado, a multidisciplinary group offering state-of-the-art care and research to multiple sclerosis patients.
Dr. Corboy is joined by Dr. Enrique Alvarez, Vice Chair of Clinical Research in the CU Department of Neurology, and Dr. Teri Schreiner, Director of the Neuroimmunology Clinic for Children at Children's Hospital Colorado.
QUESTIONS ADDRESSED IN THIS SESSION:
Click the timestamps below to be taken directly to the question (links open in a new YouTube window).
LIGHTNING ROUND:
---
About Conversations on MS
Conversations on MS is our touring and livestreaming workshop series led by one of the MS-specialty neurologists from the Rocky Mountain MS Center at University of Colorado. Our doctors travel the region on a regular basis to bring Conversations on MS to you, and provide livestreaming participation from online audience members via Zoom. 
To learn more, including an always-updating schedule of coming events, please visit our Conversations on MS page.
---
Conversations on MS is made possible in part by sponsorships and patient education grants from our supporters, including Biogen, Bristol Myers Squibb, Genentech and Janssen Pharmaceuticals.